Alamo Heights Pet Clinic has been using Cold Laser Therapy for the last 8 years and currently has a Class IV Deep Tissue Laser by LiteCure, LLC.
Cold Laser Therapy used to treat Acute and Chronic Conditions such as:
Wounds
Allergies
Infections
Inflammations
Stains, Sprains & Fractures
Degenerative Joint Disease
Lick Granulomas
Pain Relief from Hip Dysplasia
Tendonitis
Post-Surgical Healing & Pain Relief
Arthritis
Feline Acne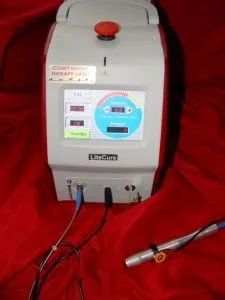 Cold Laser Treatment Cold Laser Therapy sends photons, or packets of light energy, deep into tissue without damaging it. These photons are absorbed within the mitochondria of the cells and induce a chemical change called "photo-bio-modulation". The light energy inspires production of ATP in the cell. ATP is the fuel, or energy, cells need for repair and rejuvenation. Impaired or injured cells do not make this fuel at an optimal rate. Increased ATP production leads to healthier cells, healthier tissue, and healthier animals.
Treatment protocols are unique to each pet and condition. Therefore, treatments will vary in time and complexity. Usually a session lasts 5-10 minutes.
Cold Laser will not hurt you pet, the laser light is delivered through a non-invasive hand piece to treat the affected area. Your pet will feel a gentle and soothing warmth. During the session, many pets will relax, much like you would experiencing a good massage. The almost immediate relief of pain will allow your pet to be comfortable and any anxiety that your pet initially experienced will dissipate.