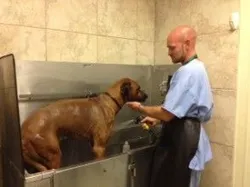 There was a time when parasites like fleas, ticks, and roundworms were considered mostly a nuisance. Now, however, we know that parasites can cause serious illness and even death in pets. For example, ticks can transmit infections like Lyme disease, and fleas can transmit tapeworms and Bartonella (an infectious bacterial disease).
You may not always be able to tell if your pet has parasites. Fleas can hide under your pet's fur, and some ticks are very tiny (only the size of a pinhead), so they are very difficult to find.
A bath and flea dip provides a number of very beneficial actions for your dog and cat. The bath itself cleans the hair and skin of dirt, flea eggs, ticks and debris, dry skin and any type of excess skin oil. These things can cause skin irritation and matted hair which leads to skin infections and can aggravate skin allergies. Giving your dog or cat a nice soapy scrub down and flea dip will leave him feeling clean, free of debris and is nicer for you, the pet owner.
Our medicated and non-medicated baths include a nail trimming, an ear cleaning and a comb out for those animals with a longer hair coat.