Dan Kirby, DVM
Dr. Kirby earned his BS in Bio-Medical Science in 1979 from Texas A&M University and graduated Cum Laude with his Doctor of Veterinary Medicine in 1984.
He has been a practicing veterinarian for 35 years and has been the owner and director of Alamo Heights Pet Clinic for 22 years. He has expanded and remodeled the clinic and has furnished it with the latest in veterinary technology. Dr Kirby's veterinary interests are surgery, ultrasonography, rehabilitation therapy and a holistic approach to medicine.
Dr. Dan Kirby is married and has 3 children. He hosts a radio show every Sunday morning on KTSA 550AM from 11 a.m. – Noon, www.ktsa.com. Dr. Kirby spends his free time attending his children's baseball and basketball games, hiking, fishing and playing basketball. The Kirby's have 5 dogs and 2 cats.
Claudia S. Alldredge, DVM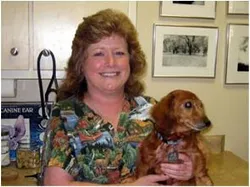 Dr. Alldredge has been an Alamo Heights Pet Clinic associate for the past 22 years, she graduated Cum Laude with a Doctor of Veterinary Medicine from Texas A&M University in 1981 and she worked in a AAHA certified small animal/exotic practice in Fort Worth for 15 years before relocating to the Texas Hill Country in 1996.
Dr. Claudia Alldredge is married to a veterinarian who specializes in large animals and has a mobile service in the Hill Country. Together they have 3 children, her youngest is following in her parent's footsteps and is currently a practicing veterinarian in San Antonio. She admits to having quite a menagerie of animals; 12 dogs, 7 cats, 1 parrot, 2 miniature donkeys and 3 horses. During her time off from the clinic, Dr. Alldredge can be found in her garden or with her horses.
---
Our Staff
Rose Wilson – Practice Manager
Rose has been at Alamo Heights Pet Clinic since 2004. She was our Lead Receptionist for many years and recently took over the role of Practice Manager. Rose and her husband Charles have been married since 1984 and have two sons, Dustin and Kyle. Dustin has currently taken on a primary role with his father's business, overseeing much of the daily activities. Kyle recently graduated Summa Cum Laude from Texas Tech University with a B.S. in Petroleum Engineering and is currently employed in Midland, Texas as a Completions Engineer. Rose has a Labrador Retriever named Dillon, who was born to play, seemingly born with a toy in his mouth!
When she's not working at Alamo Heights Pet Clinic, Rose loves spending time with her family at the coast, relaxing and also participating in fishing tournaments. Rose and her husband also enjoy weekend excursions to Fredericksburg and Gruene.
---
Valerie Dominguez – Lead Receptionist
Valerie has recently been promoted to Head of Reception and has been at Alamo Heights Pet Clinic since 2009. She graduated from the University of Texas in San Antonio in 2013 with a Bachelor of Arts in Criminal Justice. Valerie and her husband Martin have been married 18 years. They have two children, Alyssa 14 and Branden 11. Valerie and her family have two dogs, a French Bulldog Violet, and a poodle-x, Pepper who they recently adopted. Before joining our team she worked at a military veterinary clinic in Japan while her husband served in the U.S. Air Force. Valerie enjoys cooking, traveling and especially spending time with her family.
---
Ellen Rodriguez – Lead Veterinary Technican
Ellen has been at Alamo Heights Pet Clinic since 2006. She started as a Kennel Technician and then worked her way to Veterinary Technician and has been one for the last 12 years. She has 4 dogs, Pickle, Praline, Rouge, and Pischouette. Ellen is a big LSU fan and keeps up with college football and baseball games. She also loves to read and spend time with her family, especially her niece & nephew.
---
Sean LaHue – Lead Kennel
Sean is the Lead Kennel Technician and has been at Alamo Heights Pet Clinic for 12 years. He met his wife Amanda at Alamo Heights Pet Clinic when she was a receptionist and they have been married for 9 years. He has four children, Jackson 3 year old, Ava 8 years old, Gabriella 19, and Michael 16. Sean and his family have 2 cats and a Havanese named J.J. Sean is adept with handling all kinds of animals, before joining our team he worked at a Wildlife Sanctuary. Sean enjoys spending time with his family and keeping physically fit by working out and running.
---
Roberta Sanchez – Groomer
Roberta has been grooming since 2000 and has been with Alamo Heights Pet Clinic since 2001. She has been married to her husband Carlos for 21 years. Her son Vince graduated from Texas State University in 2012 and is a United States Army Ranger. She has 4 dogs and 6 cats. When she's not grooming or pet sitting she enjoys belly dancing.
Please call the clinic at 210-821-5544 to arrange your consultation.